Christmas Decorated Door Contest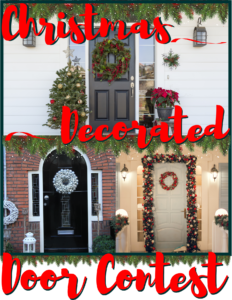 Brighten up Louth with a Christmas Decorated Door!
This year Louth Town Council are holding a contest for the best festive decorated front door, so send us a photo of yours!
The door must be your own home, be visible from the public road and the photo must have been taken within the last two weeks. Judges will shortlist from the photographs sent in and then judge the entrant's door on site from Wednesday 14th December 2022 after the competition closes. Photographs submitted will be posted on the Town Council's Facebook page.  
The entrants will be judged on the overall impact of the design and  special attention will be paid to homemade decorations.
Winner – £50 voucher, 2nd place – £30 voucher and 3rd place – £20 voucher
Entry into the competition is FREE 
Judging will take place after Wednesday 14th December 2022 (after closing at noon)
Winners will be notified before Christmas although prizes may not be distributed until after the Christmas break
For enquiries / further information please contact the Town Clerk on 01507 355895 or clerk@louthtowncouncil.gov.uk 
Entries will be judged by Louth Town Council's Floral Working Group
Either:
Download a printable entry form here
Apply online using the form below
---
ENTRY FORM – Christmas Decorated Door Contest
Data protection: I agree that I have read and understand Louth Town Council's General Privacy Notice and I agree by submitting the form below that the Council may process my personal information for providing information, corresponding with me and awarding the competition prizes.  I understand that I have the right to request modification of the information that Louth Town Council keep on record and I have the right to withdraw my consent and request that I am removed from Louth Town Council's database. 
I understand that my details and photographs of my door display will be used on social media and may be used in local publicity, in local newspapers and on the Louth Town Council website.
Entrants must live in the town of Louth.

Please note image files must not exceed a size of 9mb and must be either jpg, gif or png files.