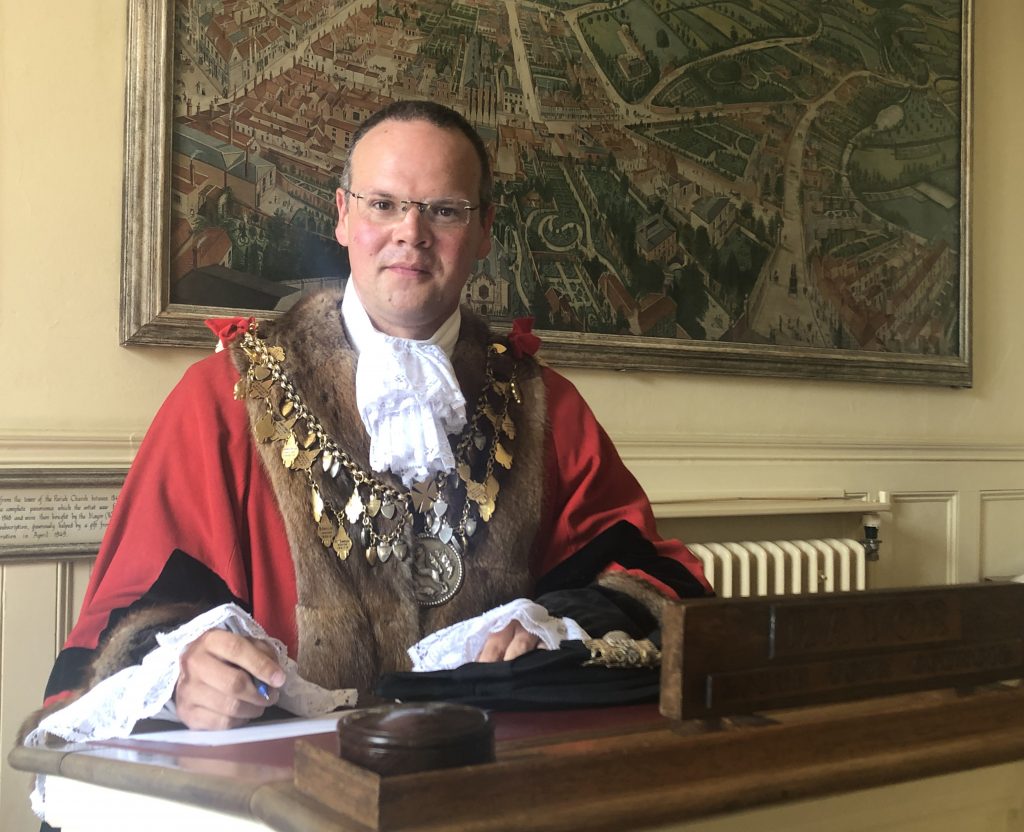 On Thursday 6th May 2021 Louth Town Council elected Councillor Darren Hobson to be its Mayor for the 2020/21 Council year for the second year running.
After a year in which he served the community as one of the youngest Mayors in the town's history; his re-election marks the first time in 65 years that the same person has been chosen as Mayor of Louth two consecutive years, the last being Councillor Maxey way back in 1956.
Once social distancing is lifted the Mayor of Louth will be only too happy to attend local events.
If you would like to know more about the Mayor of Louth please write to:
Mrs. Lynda Phillips
Town Clerk
The Sessions House
Eastgate
Louth
Lincolnshire
LN11 9AJ
or email admin@louthtowncouncil.gov.uk 
Read other press releases about the Mayor on our News Section.
| Date of Election | Christian Name | Other Name | Surname | Title |
| --- | --- | --- | --- | --- |
| 1836 | William | Grant | Allison | |
| 1836 | Samuel | | Trought | |
| 1837 | Samuel | | Trought | |
| 1838 | John | | Bogg | |
| 1839 | John | Booth | Sharpley | |
| 1840 | John | | Johnson | |
| 1841 | Tom | | Lowther | |
| 1842 | Henry | Allen | Johnson | |
| 1842 | Francis | | Overton | |
| 1843 | Joseph | | Larder | Senior |
| 1844 | Thomas | Phillips | Waite | |
| 1845 | Cornelius | | Parker | |
| 1846 | Cornelius | | Parker | |
| 1847 | Cornelius | | Parker | |
| 1848 | John | Booth | Sharpley | |
| 1849 | Field | Flowers | Coe | |
| 1850 | Field | Flowers | Coe | |
| 1851 | James | William | Wilson | |
| 1852 | Samuel | | Trought | |
| 1853 | Samuel | | Trought | |
| 1854 | John | Booth | Sharpley | |
| 1855 | William | Grant | Allison | |
| 1856 | Thomas | Phillips | Waite | |
| 1857 | Thomas | Phillips | Waite | |
| 1858 | Thomas | Phillips | Waite | |
| 1859 | Robert | | Norfolk | |
| 1860 | Robert | | Norfolk | |
| 1861 | Thomas | | Mason | |
| 1862 | Thomas | | Mason | |
| 1863 | Frederick | Septimus | Tate | |
| 1864 | Samuel | | Trought | |
| 1865 | Samuel | | Trought | |
| 1866 | Samuel | | Trought | |
| 1867 | Robert | | Johnson | |
| 1868 | Robert | | Johnson | |
| 1869 | Thomas | | Sharpley | M.D. |
| 1870 | John | | Bell | |
| 1871 | Dan | | Cresswell | |
| 1872 | Salah | | Cartwright | |
| 1873 | Thomas | Ellrington | Smith | |
| 1874 | James | | Fowler | |
| 1875 | James | | Fowler | |
| 1876 | Henry | David | Simpson | |
| 1877 | Henry | David | Simpson | |
| 1878 | Joseph | | Cusworth | |
| 1879 | Joseph | | Cusworth | |
| 1880 | James | | Fowler | |
| 1881 | Saville | | Smith | |
| 1882 | Joseph | William | Morton | |
| 1883 | Henry | David | Simpson | |
| 1884 | William | Ludlam | Mason | |
| 1885 | Joseph | | Cusworth | |
| 1886 | James | | Fowler | |
| 1887 | John | Willows | Barton | |
| 1888 | Richard | James | Nell | |
| 1889 | John | Willows | Barton | |
| 1890 | James | | Fowler | |
| 1891 | Barnard | | Longbottom | |
| 1892 | Palemon | | Best | M.B. |
| 1893 | Barnard | | Longbottom | |
| 1894 | Joseph | | Cusworth | |
| 1895 | Henry | David | Simpson | |
| 1896 | Henry | David | Simpson | |
| 1897 | John | | Taylor | |
| 1898 | John | David | Taylor | |
| 1899 | Samuel | | Cresswell | |
| 1900 | Hurd | | Hickling | |
| 1901 | Mark | | Smith | |
| 1902 | Mark | | Smith | |
| 1903 | Frederick | M. | Thompson | |
| 1904 | Henry | David | Simpson | |
| 1905 | Mark | | Smith | |
| 1906 | Richard | | Dawson | |
| 1907 | Hurd | | Hickling | |
| 1908 | Herbert | | Sharpley | |
| 1909 | Thomas | | Gelsthorpe | |
| 1910 | George | | Blaze | |
| 1911 | Thomas | | Gelsthorpe | |
| 1912 | Thomas | | Gelsthorpe | |
| 1913 | Richard | | Maltby | |
| 1914 | Hurd | | Hickling | |
| 1915 | Christopher | | Adlard | |
| 1916 | Christopher | | Adlard | |
| 1917 | Richard | | Dawson | |
| 1918 | Sydney | H. | Jackson | |
| 1919 | William | | Lacey | |
| 1920 | William | | Lacey | |
| 1921 | Henry | Stanley | Walker | |
| 1922 | Henry | Stanley | Walker | |
| 1923 | James | | Lill | |
| 1924 | William | S. | Sowerby | |
| 1925 | Sydney | H. | Jackson | |
| 1926 | Frank | Henry | Fieldsend | |
| 1927 | Henry | Higson | Simpson | |
| 1928 | Percy | | Parker | |
| 1929 | Albert | Ernest | Maxey | |
| 1930 | Bert | | Appleby | |
| 1931 | John | Palmer | Beckett | |
| 1932 | Jesse | | Rushforth | |
| 1933 | Ernest | Harry | Thompson | |
| 1934 | Albert | Ernest | Maxey | |
| 1935 | Albert | Ernest | Maxey | |
| 1936 | John | Richard | Coney | |
| 1937 | Alfred | Herbert | Wright | |
| 1938 | Laurance | James | Lill | |
| 1939 | Laurance | James | Lill | |
| 1940 | Ernest | Harry | Thompson | |
| 1941 | Albert | Ernest | Maxey | |
| 1942 | Evan | William | Macdonald | |
| 1943 | George | Harold | Taylor | |
| 1944 | John | Robert | Sanderson | |
| 1945 | William | | Rowson | |
| 1946 | John | Carveley | Shelton | |
| 1947 | Wilfred | Alex. | Slack | |
| 1948 | | | | |
| 1949 | Arthur | W. | Jaines | |
| 1950 | Maurice | | Hall | |
| 1951 | John | C. | Wherry | |
| 1952 | John | H. | Starsmore | |
| 1953 | Frank | | Macdonald | |
| 1954 | William | Robert | Burr | |
| 1955 | Albert | Ernest | Maxey | |
| 1956 | Albert | Ernest | Maxey | |
| 1957 | William | | Patchett | |
| 1958 | Ronald | H. | Brackenbury | |
| 1959 | John | H. | Starsmore | |
| 1960 | Charles | W. | Dunham | |
| 1961 | W.R. | Cecil | Simpson | |
| 1962 | Arthur | | McNeaney | |
| 1963 | Neville | J. | Nicholson | |
| 1964 | Roosevelt | | Wilkinson | |
| 1965 | A. | Elizabeth | Hardy | |
| 1966 | Percy | | Fell | |
| 1967 | Reginald | M. | Cross | |
| 1968 | Gladys | P. | Wilcox | |
| 1969 | Ronald | H. | Brackenbury | |
| 1970 | Robin | | Brumby | |
| 1971 | Roosevelt | | Wilkinson | |
| 1972 | Charles | O. | Everitt | |
| 1973 | Frank | | Macdonald | |
| 1974 | Percy | | Fell | |
| 1975 | Peter | Graham | Smith | |
| 1976 | Alfred | Stanley | Ward | |
| 1977 | Gladys | Pacey | Wilcox | |
| 1978 | George | Alfred | Cuppleditch | |
| 1979 | Frank | | Macdonald | |
| 1980 | George | | Arliss | |
| 1981 | John | Robert | Needham | |
| 1982 | Kenneth | Roland | West | |
| 1983 | George | Alfred | Cuppleditch | |
| 1984 | Alfred | Stanley | Ward | |
| 1985 | Frank | Raymond | Michael | |
| 1986 | Conny | | Jardine | |
| 1987 | Roy | | Gathercole | |
| 1988 | John | Richard | Macdonald | |
| 1989 | Sandra | Jean | Ingleton | |
| 1990 | Joyce | Mildred | Munslow | |
| 1991 | Dorothy | | Grant | |
| 1992 | David | | Shepherd | |
| 1993 | John | | Dean | |
| 1994 | Clive | | Finch | |
| 1995 | Fergus | | Robertson | |
| 1996 | Margaret | | Ottaway | M.B.E. |
| 1997 | Eileen | | Ballard | |
| 1998 | David | | Kaye | |
| 1999 | David | M. | Skinner | |
| 2000 | John | | Dean | |
| 2001 | Brian | | Hodgkinson | |
| 2002 | Fergus | | Robertson | |
| 2003 | Trevor | F. | Marris | |
| 2004 | Fabian | | Coonghe | |
| 2005 | Eileen | | Ballard | JP |
| 2006 | Mary | W. | Finch | |
| 2007 | John | R. | Macdonald | |
| 2008 | Francis | W.P. | Treanor | |
| 2009 | Keith | A. | Sharp | |
| 2010 | Trevor | F. | Marris | |
| 2011 | Brian | | Burnett | |
| 2012 | Jill | | Makinson-Sanders | |
| 2013 | David | E. | Wing | |
| 2014 | Andrew | | Leonard | JP |
| 2015 | Susan | E. | Locking | |
| 2016 | Eileen | | Ballard | JP |
| 2017 | Pauline | F. | Watson | |
| 2018 | George | E. | Horton | JP |
| 2019 | Francis | W.P. | Treanor | |
| 2020 | Darren | L. | Hobson | |
| 2021 | Darren | L. | Hobson | |