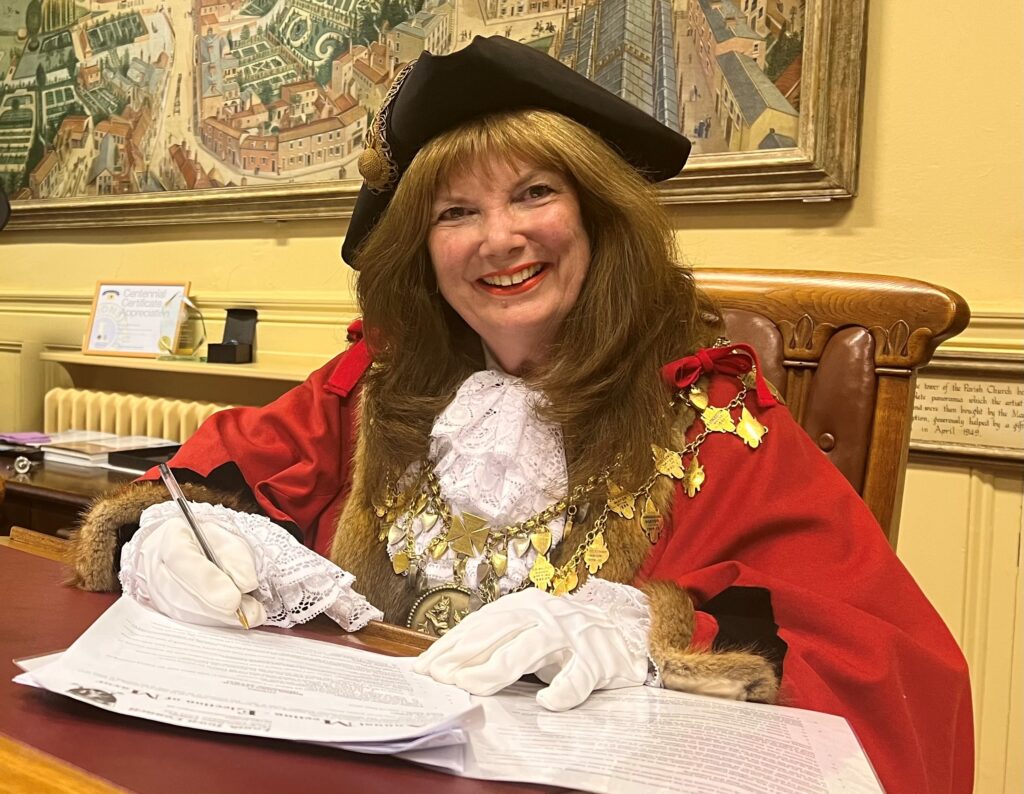 On Tuesday May 16th Louth Town Council elected Councillor Julia Simmons to be its Mayor for the 2023/24 Council year.
If you would like to invite the Mayor of Louth to an event please write to:
Miss Shona Chitauro
Louth Town Council
The Sessions House
Eastgate
Louth
Lincolnshire
LN11 9AJ
or email admin@louthtowncouncil.gov.uk
Read more about Cllr. Julia Simmons background here or click here to read about her Council role.
Each year the Mayor collects funds which are distributed to worthy causes at the end of their term in office. If you would like to donate to the Mayor's Charity Fund, please contact the Mayor for details.
| Date of Election | Christian Name | Other Name | Surname | Title |
| --- | --- | --- | --- | --- |
| 1836 | William | Grant | Allison | |
| 1836 | Samuel | | Trought | |
| 1837 | Samuel | | Trought | |
| 1838 | John | | Bogg | |
| 1839 | John | Booth | Sharpley | |
| 1840 | John | | Johnson | |
| 1841 | Tom | | Lowther | |
| 1842 | Henry | Allen | Johnson | |
| 1842 | Francis | | Overton | |
| 1843 | Joseph | | Larder | Senior |
| 1844 | Thomas | Phillips | Waite | |
| 1845 | Cornelius | | Parker | |
| 1846 | Cornelius | | Parker | |
| 1847 | Cornelius | | Parker | |
| 1848 | John | Booth | Sharpley | |
| 1849 | Field | Flowers | Coe | |
| 1850 | Field | Flowers | Coe | |
| 1851 | James | William | Wilson | |
| 1852 | Samuel | | Trought | |
| 1853 | Samuel | | Trought | |
| 1854 | John | Booth | Sharpley | |
| 1855 | William | Grant | Allison | |
| 1856 | Thomas | Phillips | Waite | |
| 1857 | Thomas | Phillips | Waite | |
| 1858 | Thomas | Phillips | Waite | |
| 1859 | Robert | | Norfolk | |
| 1860 | Robert | | Norfolk | |
| 1861 | Thomas | | Mason | |
| 1862 | Thomas | | Mason | |
| 1863 | Frederick | Septimus | Tate | |
| 1864 | Samuel | | Trought | |
| 1865 | Samuel | | Trought | |
| 1866 | Samuel | | Trought | |
| 1867 | Robert | | Johnson | |
| 1868 | Robert | | Johnson | |
| 1869 | Thomas | | Sharpley | M.D. |
| 1870 | John | | Bell | |
| 1871 | Dan | | Cresswell | |
| 1872 | Salah | | Cartwright | |
| 1873 | Thomas | Ellrington | Smith | |
| 1874 | James | | Fowler | |
| 1875 | James | | Fowler | |
| 1876 | Henry | David | Simpson | |
| 1877 | Henry | David | Simpson | |
| 1878 | Joseph | | Cusworth | |
| 1879 | Joseph | | Cusworth | |
| 1880 | James | | Fowler | |
| 1881 | Saville | | Smith | |
| 1882 | Joseph | William | Morton | |
| 1883 | Henry | David | Simpson | |
| 1884 | William | Ludlam | Mason | |
| 1885 | Joseph | | Cusworth | |
| 1886 | James | | Fowler | |
| 1887 | John | Willows | Barton | |
| 1888 | Richard | James | Nell | |
| 1889 | John | Willows | Barton | |
| 1890 | James | | Fowler | |
| 1891 | Barnard | | Longbottom | |
| 1892 | Palemon | | Best | M.B. |
| 1893 | Barnard | | Longbottom | |
| 1894 | Joseph | | Cusworth | |
| 1895 | Henry | David | Simpson | |
| 1896 | Henry | David | Simpson | |
| 1897 | John | | Taylor | |
| 1898 | John | David | Taylor | |
| 1899 | Samuel | | Cresswell | |
| 1900 | Hurd | | Hickling | |
| 1901 | Mark | | Smith | |
| 1902 | Mark | | Smith | |
| 1903 | Frederick | M. | Thompson | |
| 1904 | Henry | David | Simpson | |
| 1905 | Mark | | Smith | |
| 1906 | Richard | | Dawson | |
| 1907 | Hurd | | Hickling | |
| 1908 | Herbert | | Sharpley | |
| 1909 | Thomas | | Gelsthorpe | |
| 1910 | George | | Blaze | |
| 1911 | Thomas | | Gelsthorpe | |
| 1912 | Thomas | | Gelsthorpe | |
| 1913 | Richard | | Maltby | |
| 1914 | Hurd | | Hickling | |
| 1915 | Christopher | | Adlard | |
| 1916 | Christopher | | Adlard | |
| 1917 | Richard | | Dawson | |
| 1918 | Sydney | H. | Jackson | |
| 1919 | William | | Lacey | |
| 1920 | William | | Lacey | |
| 1921 | Henry | Stanley | Walker | |
| 1922 | Henry | Stanley | Walker | |
| 1923 | James | | Lill | |
| 1924 | William | S. | Sowerby | |
| 1925 | Sydney | H. | Jackson | |
| 1926 | Frank | Henry | Fieldsend | |
| 1927 | Henry | Higson | Simpson | |
| 1928 | Percy | | Parker | |
| 1929 | Albert | Ernest | Maxey | |
| 1930 | Bert | | Appleby | |
| 1931 | John | Palmer | Beckett | |
| 1932 | Jesse | | Rushforth | |
| 1933 | Ernest | Harry | Thompson | |
| 1934 | Albert | Ernest | Maxey | |
| 1935 | Albert | Ernest | Maxey | |
| 1936 | John | Richard | Coney | |
| 1937 | Alfred | Herbert | Wright | |
| 1938 | Laurance | James | Lill | |
| 1939 | Laurance | James | Lill | |
| 1940 | Ernest | Harry | Thompson | |
| 1941 | Albert | Ernest | Maxey | |
| 1942 | Evan | William | Macdonald | |
| 1943 | George | Harold | Taylor | |
| 1944 | John | Robert | Sanderson | |
| 1945 | William | | Rowson | |
| 1946 | John | Carveley | Shelton | |
| 1947 | Wilfred | Alex. | Slack | |
| 1948 | | | | |
| 1949 | Arthur | W. | Jaines | |
| 1950 | Maurice | | Hall | |
| 1951 | John | C. | Wherry | |
| 1952 | John | H. | Starsmore | |
| 1953 | Frank | | Macdonald | |
| 1954 | William | Robert | Burr | |
| 1955 | Albert | Ernest | Maxey | |
| 1956 | Albert | Ernest | Maxey | |
| 1957 | William | | Patchett | |
| 1958 | Ronald | H. | Brackenbury | |
| 1959 | John | H. | Starsmore | |
| 1960 | Charles | W. | Dunham | |
| 1961 | W.R. | Cecil | Simpson | |
| 1962 | Arthur | | McNeaney | |
| 1963 | Neville | J. | Nicholson | |
| 1964 | Roosevelt | | Wilkinson | |
| 1965 | A. | Elizabeth | Hardy | |
| 1966 | Percy | | Fell | |
| 1967 | Reginald | M. | Cross | |
| 1968 | Gladys | P. | Wilcox | |
| 1969 | Ronald | H. | Brackenbury | |
| 1970 | Robin | | Brumby | |
| 1971 | Roosevelt | | Wilkinson | |
| 1972 | Charles | O. | Everitt | |
| 1973 | Frank | | Macdonald | |
| 1974 | Percy | | Fell | |
| 1975 | Peter | Graham | Smith | |
| 1976 | Alfred | Stanley | Ward | |
| 1977 | Gladys | Pacey | Wilcox | |
| 1978 | George | Alfred | Cuppleditch | |
| 1979 | Frank | | Macdonald | |
| 1980 | George | | Arliss | |
| 1981 | John | Robert | Needham | |
| 1982 | Kenneth | Roland | West | |
| 1983 | George | Alfred | Cuppleditch | |
| 1984 | Alfred | Stanley | Ward | |
| 1985 | Frank | Raymond | Michael | |
| 1986 | Conny | | Jardine | |
| 1987 | Roy | | Gathercole | |
| 1988 | John | Richard | Macdonald | |
| 1989 | Sandra | Jean | Ingleton | |
| 1990 | Joyce | Mildred | Munslow | |
| 1991 | Dorothy | | Grant | |
| 1992 | David | | Shepherd | |
| 1993 | John | | Dean | |
| 1994 | Clive | | Finch | |
| 1995 | Fergus | | Robertson | |
| 1996 | Margaret | | Ottaway | M.B.E. |
| 1997 | Eileen | | Ballard | |
| 1998 | David | | Kaye | |
| 1999 | David | M. | Skinner | |
| 2000 | John | | Dean | |
| 2001 | Brian | | Hodgkinson | |
| 2002 | Fergus | | Robertson | |
| 2003 | Trevor | F. | Marris | |
| 2004 | Fabian | | Coonghe | |
| 2005 | Eileen | | Ballard | JP |
| 2006 | Mary | W. | Finch | |
| 2007 | John | R. | Macdonald | |
| 2008 | Francis | W.P. | Treanor | |
| 2009 | Keith | A. | Sharp | |
| 2010 | Trevor | F. | Marris | |
| 2011 | Brian | | Burnett | |
| 2012 | Jill | | Makinson-Sanders | |
| 2013 | David | E. | Wing | |
| 2014 | Andrew | | Leonard | JP |
| 2015 | Susan | E. | Locking | |
| 2016 | Eileen | | Ballard | JP |
| 2017 | Pauline | F. | Watson | |
| 2018 | George | E. | Horton | JP |
| 2019 | Francis | W.P. | Treanor | |
| 2020 | Darren | L. | Hobson | |
| 2021 | Darren | L. | Hobson | |