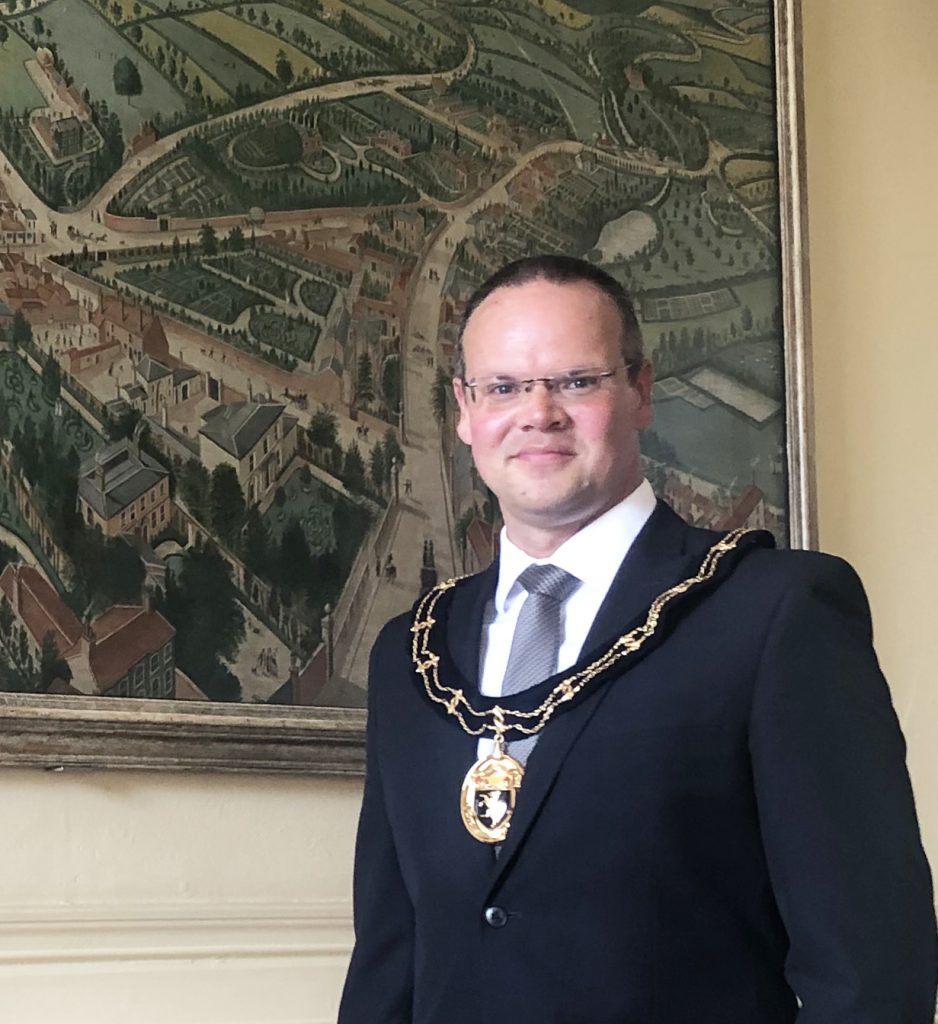 On Tuesday 19th May 2020, Louth Town Council elected Councillor Darren Hobson to be its Mayor for the 2020/21 Council year.
Once social distancing is lifted the Mayor of Louth will be only too happy to attend local events.
Follow the Mayor's Blog by clicking on this link.
If you would like to know more about the Mayor of Louth please write to:
Mrs. Lynda Phillips
Town Clerk
The Sessions House
Eastgate
Louth
Lincolnshire
LN11 9AJ
or email admin@louthtowncouncil.gov.uk 
Read other press releases about the Mayor click on our News Section.
Mayors of Louth from 1836
 
Date of Election
Christian Name
Other Name
Surname
Title
1836
William
Grant
Allison
 
1836
Samuel
 
Trought
 
1837
Samuel
 
Trought
 
1838
John
 
Bogg
 
1839
John
Booth
Sharpley
 
1840
John
 
Johnson
 
1841
Tom
 
Lowther
 
1842
Henry
Allen
Johnson
 
1842
Francis
 
Overton
 
1843
Joseph
 
Larder
Senior
1844
Thomas
Phillips
Waite
 
1845
Cornelius
 
Parker
 
1846
Cornelius
 
Parker
 
1847
Cornelius
 
Parker
 
1848
John
Booth
Sharpley
 
1849
Field
Flowers
Coe
 
1850
Field
Flowers
Coe
 
1851
James
William
Wilson
 
1852
Samuel
 
Trought
 
1853
Samuel
 
Trought
 
1854
John
Booth
Sharpley
 
1855
William
Grant
Allison
 
1856
Thomas
Phillips
Waite
 
1857
Thomas
Phillips
Waite
 
1858
Thomas
Phillips
Waite
 
1859
Robert
 
Norfolk
 
1860
Robert
 
Norfolk
 
1861
Thomas
 
Mason
 
1862
Thomas
 
Mason
 
1863
Frederick
Septimus
Tate
 
1864
Samuel
 
Trought
 
1865
Samuel
 
Trought
 
1866
Samuel
 
Trought
 
1867
Robert
 
Johnson
 
1868
Robert
 
Johnson
 
1869
Thomas
 
Sharpley
M.D.
1870
John
 
Bell
 
1871
Dan
 
Cresswell
 
1872
Salah
 
Cartwright
 
1873
Thomas
Ellrington
Smith
 
1874
James
 
Fowler
 
1875
James
 
Fowler
 
1876
Henry
David
Simpson
 
1877
Henry
David
Simpson
 
1878
Joseph
 
Cusworth
 
1879
Joseph
 
Cusworth
 
1880
James
 
Fowler
 
1881
Saville
 
Smith
 
1882
Joseph
William
Morton
 
1883
Henry
David
Simpson
 
1884
William
Ludlam
Mason
 
1885
Joseph
 
Cusworth
 
1886
James
 
Fowler
 
1887
John
Willows
Barton
 
1888
Richard
James
Nell
 
1889
John
Willows
Barton
 
1890
James
 
Fowler
 
1891
Barnard
 
Longbottom
 
1892
Palemon
 
Best
M.B.
1893
Barnard
 
Longbottom
 
1894
Joseph
 
Cusworth
 
1895
Henry
David
Simpson
 
1896
Henry
David
Simpson
 
1897
John
 
Taylor
 
1898
John
David
Taylor
 
1899
Samuel
 
Cresswell
 
1900
Hurd
 
Hickling
 
1901
Mark
 
Smith
 
1902
Mark
 
Smith
 
1903
Frederick
M.
Thompson
 
1904
Henry
David
Simpson
 
1905
Mark
 
Smith
 
1906
Richard
 
Dawson
 
1907
Hurd
 
Hickling
 
1908
Herbert
 
Sharpley
 
1909
Thomas
 
Gelsthorpe
 
1910
George
 
Blaze
 
1911
Thomas
 
Gelsthorpe
 
1912
Thomas
 
Gelsthorpe
 
1913
Richard
 
Maltby
 
1914
Hurd
 
Hickling
 
1915
Christopher
 
Adlard
 
1916
Christopher
 
Adlard
 
1917
Richard
 
Dawson
 
1918
Sydney
H.
Jackson
 
1919
William
 
Lacey
 
1920
William
 
Lacey
 
1921
Henry
Stanley
Walker
 
1922
Henry
Stanley
Walker
 
1923
James
 
Lill
 
1924
William
S.
Sowerby
 
1925
Sydney
H.
Jackson
 
1926
Frank
Henry
Fieldsend
 
1927
Henry
Higson
Simpson
 
1928
Percy
 
Parker
 
1929
Albert
Ernest
Maxey
 
1930
Bert
 
Appleby
 
1931
John
Palmer
Beckett
 
1932
Jesse
 
Rushforth
 
1933
Ernest
Harry
Thompson
 
1934
Albert
Ernest
Maxey
 
1935
Albert
Ernest
Maxey
 
1936
John
Richard
Coney
 
1937
Alfred
Herbert
Wright
 
1938
Laurance
James
Lill
 
1939
Laurance
James
Lill
 
1940
Ernest
Harry
Thompson
 
1941
Albert
Ernest
Maxey
 
1942
Evan
William
Macdonald
 
1943
George
Harold
Taylor
 
1944
John
Robert
Sanderson
 
1945
William
 
Rowson
 
1946
John
Carveley
Shelton
 
1947
Wilfred
Alex.
Slack
 
1948
 
 
 
 
1949
Arthur
W.
Jaines
 
1950
Maurice
 
Hall
 
1951
John
C.
Wherry
 
1952
John
H.
Starsmore
 
1953
Frank
 
Macdonald
 
1954
William
Robert
Burr
 
1955
Albert
Ernest
Maxey
 
1956
Albert
Ernest
Maxey
 
1957
William
 
Patchett
 
1958
Ronald
H.
Brackenbury
 
1959
John
H.
Starsmore
 
1960
Charles
W.
Dunham
 
1961
W.R.
Cecil
Simpson
 
1962
Arthur
 
McNeaney
 
1963
Neville
J.
Nicholson
 
1964
Roosevelt
 
Wilkinson
 
1965
A.
Elizabeth
Hardy
 
1966
Percy
 
Fell
 
1967
Reginald
M.
Cross
 
1968
Gladys
P.
Wilcox
 
1969
Ronald
H.
Brackenbury
 
1970
Robin
 
Brumby
 
1971
Roosevelt
 
Wilkinson
 
1972
Charles
O.
Everitt
 
1973
Frank
 
Macdonald
 
1974
Percy
 
Fell
 
1975
Peter
Graham
Smith
 
1976
Alfred
Stanley
Ward
 
1977
Gladys
Pacey
Wilcox
 
1978
George
Alfred
Cuppleditch
 
1979
Frank
 
Macdonald
 
1980
George
 
Arliss
 
1981
John
Robert
Needham
 
1982
Kenneth
Roland
West
 
1983
George
Alfred
Cuppleditch
 
1984
Alfred
Stanley
Ward
 
1985
Frank
Raymond
Michael
 
1986
Conny
 
Jardine
 
1987
Roy
 
Gathercole
 
1988
John
Richard
Macdonald
 
1989
Sandra
Jean
Ingleton
 
1990
Joyce
Mildred
Munslow
 
1991
Dorothy
 
Grant
 
1992
David
 
Shepherd
 
1993
John
 
Dean
 
1994
Clive
 
Finch
 
1995
Fergus
 
Robertson
 
1996
Margaret
 
Ottaway
M.B.E.
1997
Eileen
 
Ballard
 
1998
David
 
Kaye
 
1999
David
M.
Skinner
 
2000
John
 
Dean
 
2001
Brian
 
Hodgkinson
 
2002
Fergus
 
Robertson
 
2003
Trevor
F.
Marris
 
2004
Fabian
 
Coonghe
 
2005
Eileen
 
Ballard
JP
2006
Mary
W.
Finch
 
2007
John
R.
Macdonald
 
2008
Francis
W.P.
Treanor
 
2009
Keith
A.
Sharp
 
2010
Trevor
F.
Marris
 
2011
Brian
 
Burnett
 
2012
Jill
 
Makinson-Sanders
 
2013
David
E.
Wing
 
2014
Andrew
 
Leonard
JP
2015
Susan
E.
Locking
 
2016
Eileen
 
Ballard
JP
2017
Pauline
F.
Watson
 
2018
George
E.
Horton
JP
2019
Francis
W.P.
Treanor
 
2020
Darren
L.
Hobson