Have you ever taken the time to reflect on how things unfold? A quote I read recently said, "Reflection is one of the most underused yet powerful tools for success." As I find myself looking back on my first three months as Mayor of our wonderful town of Louth, I think about what has happened in that time and how I might look back on it in the years ahead.
At the start of 2020, it was mooted by my colleagues that they were looking to nominate me to the position of Deputy Mayor for the forthcoming year. Usually the holder of that office would move up to the role of Mayor during the subsequent year. I certainly didn't expect that I would have the privilege of holding the office of Mayor within a matter of months.
It's funny how circumstances conspire sometimes. They change what we anticipate in our own minds and bring forward unexpected opportunities. That's something that I have reflected on numerous times during the first quarter of my year in office.
Unconventional beginnings
Three months on from my election and I am all too aware that this mayoral year is going to be anything like 'normal'. That said, I am relishing the opportunity to see how the year ahead unfolds in the strange new times that we are all just beginning to get used to.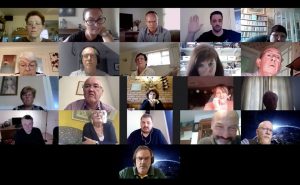 My start to the year certainly has not been what might be considered conventional. A virtual meeting, held online over Zoom, ushered in the beginning of my year. Picture the scene: twenty or so faces all staring out of a single screen and, one by one, putting their faith in me to lead them through the challenges of emerging from the enforced stay-at-home order that we were all enduring. 'Daunting' was one word that sprung to mind. 'Exciting' was another. At that point we knew not when life might begin to resemble something similar to what we had known previously.
Despite many of the events to which the holder of the office would typically attend not being able to take place this summer, I have thoroughly enjoyed being able to engage with the community in the limited way in which I have so far been able to do so.
Commemorating the past: Part 1
Thankfully I have had the support of the Mayoress as we began our year. We started our year of engagements with one which was of particular interest to me. 2020 marked the centenary of the great Louth flood during which twenty-three people tragically lost their lives. An enormous torrent of raging water wreaked havoc on our town. As one hundred years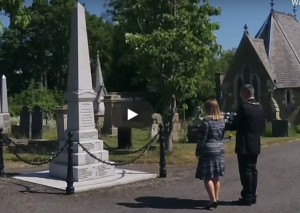 has passed and the last of those who witnessed first-hand the devastation of that fateful day have left us, tales of that day's events have been handed on down the generations.
Fortunately, Louth has never experienced a disaster on anything like the same scale since but the town is fully aware of how susceptible it is to sudden and prolonged rainfall. That is an issue that I know only too well as a result of my years serving the town as its volunteer Flood Warden prior to becoming a member of the Town Council.
We remembered those who were lost and affected during the commemorations of the 1920 flood in May this year. Our first outing was to lay a wreath at the town's cemetery and take one more moment to reflect, as I know so many people of our community also did.
Challenging times
Of course; this council year has thus far been defined by the extraordinary times that we are living through. The coronavirus pandemic has touched each and every one of us in some way, some more so than others. It appears to be a sad fact that it will undoubtedly continue to do so for a long time to come.
One thing that has been overwhelmingly heartening throughout the recent months is the way in which our community has pulled together. Those of us that have had the pleasure of calling Louth 'home' for some time will know how resilient the people of our town are. The unfortunate events since the start of this year have once again shone a light on how caring, thoughtful and compassionate our community is.
So many people have contributed in one way or another. From diverting the usual focus of their business to create different and much-needed products, to putting services in place to ensure those most vulnerable in our society have everything they need. And from putting in place supply channels to make sure that our isolated individuals maintain contact with the world beyond their doorstep, to businesses that have adapted how they operate in order to ensure that our town has its unique blend of shops and services to reopen when the time was right.
Each and every one of us has a role to play in making sure that our community is as safe as it possibly can be during these unsettling times in our lives.
Giving thanks
Once we were able to do so safely, the Mayoress and I took the opportunity to visit some of the businesses and organisations that were able to remain open throughout the lockdown period. We thanked them for their commitment and dedication.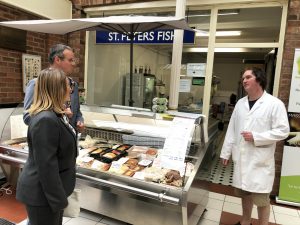 The sense of pride that we felt when visiting a handful of the shops, eateries and manufacturers that were able to make sure that the people of Louth and beyond had access to what they needed during the Spring was enormous.
Perhaps never has the word 'unprecedented' been such a part of our vernacular. However that word is entirely appropriate when referring to the demands put on our local food bank. The dedicated volunteers that run this important service in our community have, as one might expect, been inundated with increased levels of need.
We were delighted to visit shops that have barely taken a day off since March and discuss the challenges that they have been faced with and hear how they have adapted by offering delivery services which they previously had not had the capacity to offer. This has proved essential for some in ensuring that they had a livelihood.
Furthermore, it has been heartening to see fledgling businesses open and others relocate even at this early stage of the town's recovery.
Learning to cope
As well as visiting businesses, I felt it was important to recognise the incredible efforts of our fabulous local schools. All of our primary education providers remained open to accommodate the children of those deemed essential workers as well as ensuring a safe and familiar setting for those children in our town that require stability on a daily basis.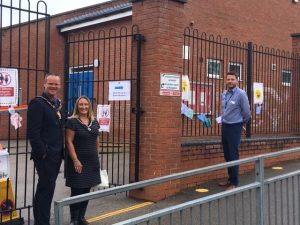 Education remains close to my heart and my past years as a teacher mean that I know only too well how demanding a profession it is at the best of times. Of course, with uncertainty and, quite possibly, some trepidation our schools rose to the challenge during the Spring and Summer terms. They made sure that they were not just open for the families needing them but also making sure that education was maintained for all as much as possible. Taking the time to see for ourselves how each primary school was operating during socially distanced visits and understand the difficulties they were faced with was especially rewarding for me.
When it is even safer and we are able to do so, we hope to see how others in the town such as our healthcare providers have managed during these trying times. I look forward to the opportunity to visit more of the fantastic array of organisations that we are so fortunate to have in Louth and engage with them. It is always good to hear about new projects and what organisations' aspirations for the future are. I look forward to hearing about them during the rest of my mayoral year.
Commemorating the past: Part 2
With much of the focus both locally and nationally being, perhaps understandably, centred on marking the 75th anniversary of victory in Europe earlier this year, it seemed a shame to allow the same milestone to pass unrecognised as this month marked VJ Day and the end of the Second World War.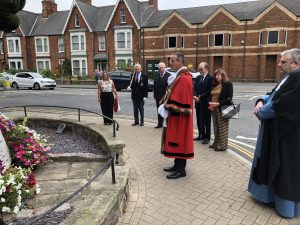 Organisations in our town marked the occasion and both the Mayoress and I were able to join in with commemorations including a simple ceremony at 11 o'clock in the Cornmarket, laying a wreath at the town's war memorial and attending a short service in our ever-tranquil parish church of St James'.
This was arranged by the Reverend Nick Brown who very kindly agreed to be the Mayor's Chaplain for me once again this year. It goes without saying that we as a community are always indebted to those from our town who put themselves in harm's way for the greater good all those years ago.
Resilience is key
Of course, none of us need put ourselves in danger unnecessarily during these challenging times. By following the advice given to us and doing our best to look after one another, I have no doubt that we will continue to maintain the values that our wonderful town has always been known for – a caring community which overcomes adversity, filled with people who care about each other and simply want the best for their town. I very much look forward to seeing how Louth continues to adapt for the better in the months ahead.
Wherever possible; shop locally and especially support our local businesses. Many of them put themselves out for us when we needed them this year. Now it's our turn to help them out at a time when they need us more than ever.
Let's have something positive to look back on in the months and years ahead when we cast our minds back to what we have all endured this year. Reflection really is a powerful tool. It helps us to learn from what we did right and wrong with a view to making sure we don't repeat our mistakes in the future. We have a lot to be thankful for.
If we all strive to look after each other and aim for that positive outcome in the months ahead, Louth will have learnt from the past in order to have an even better future. Stay safe and take care.